13 Days Safari Samburu - Aberdare - Masai Mara - Amboseli - Tsavo - Mombasa
13 Days Safari Samburu - Aberdare - Masai Mara - Amboseli - Tsavo - Mombasa
Guaranteed departures with minimum order: 2 People
Day 01. Nairobi - Samburu. Drive north through cultivations of coffee and pineapple to Nanyuki for lunch. In the afternoon continue on to Samburu national reserve.
Day 02. Samburu. Full day spent in Samburu with early morning and afternoon game viewing drives. Samburu is also home to the third of Kenya's giraffe species - the rare Reticulated Giraffe (only found in the Northern parks). This is also where you see the blue-legged Somali Ostrich, the long-necked Gerenuk Gazelle and the straight-horned Beisa Oryx Antelope.
Day 03. Samburu - Aberdare. After breakfast at the Lodge, head back to Nyeri arriving at Outspan hotel in time for a country style lunch. After Lunch transfer into the Aberdare national park to Treetops for an evening and night of game watching. Your simple but comfortable room overlooks a water hole which attracts wildlife throughout the afternoon and night. Quietly observe the procession of wildlife that comes to drink: buffalo, rhino, leopard, hyena and antelope. 
Day 04. Treetops - Nakuru. After breakfast drive to Lake Nakuru national park. Picnic Lunch at Thompson's falls. Afternoon proceed to Lake Nakuru for a truly remarkable game drive that includes flamingoes as well as the rare white rhino in this world famous ornithological paradise with over 450 species of bird life.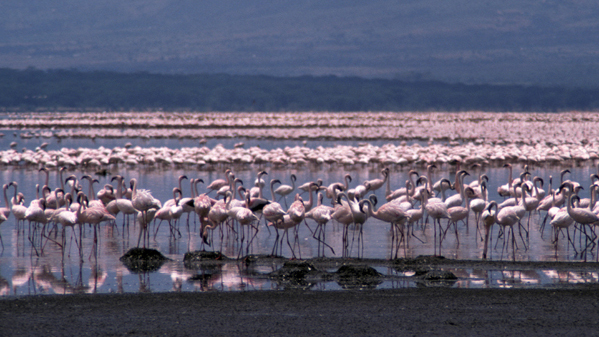 Day 05. Nakuru - Masai Mara. After breakfast, depart for Masai Mara game reserve. Lunch is served on arrival followed by afternoon game viewing in this well-known game reserve situated in the North of the Serengeti plains and famous for it's abundance of wildlife. 
Day 06. Masai Mara. After breakfast proceed for full day game viewing; to grasp the true feeling of Africa, there is nothing better than the Masai Mara experience! This well watered park crossed by the Mara River is a permanent home for large herds of wildebeests, zebras Elephants, giraffes, and antelopes coexisting with predators such as lions, hyenas, leopards and cheetahs. Sunrise and sundown are the greatest moments for game viewing in these mystic plains, a time where the soft red hues of the sun will give your photographs the clarity of the actual African savannah. 
Day 07. Masai Mara - Amboseli. Early breakfast then drive to Amboseli via Nairobi, with lunch enroute.  Amboseli has the largest concentration of elephants and such other game as Lion, Buffalo, Gazelle, Cheetah, Wildebeest, Hyena, Jackal, Monkey, Giraffe, Zebra and Baboon. Game is seen on much of the route to the park, which crosses archer plains where Masai tend their cattle in an age-old tradition. 

Day 08. Amboseli - Tsavo West. After breakfast depart Amboseli and head to Tsavo West National Park outside the park gates are the Shetani Lava Flows," frozen" rivers of molten black rock twisted in bizarre shapes. At just over (20,000 sq Km), Tsavo is Kenya's largest national park. The park is home to a huge variety of animals and birds, especially around the watering holes in this otherwise dry area. The watering holes in this park are a stopover for hundreds of thousands of birds on their annual migration south during the fall. Dinner and overnight at the Tented luxury camp or lodge.
Day 09. Tsavo West. After breakfast Morning game drive and lunch at the Lodge. Afternoon visit to Mzima springs the source of the freshwater pools much favored by Hippos and crocodiles. There is even a glass wall for viewing the pools from under the water line. Wildlife that can be spotted in this area includes lions, cheetahs, leopards, hyenas, jackals, giraffes, zebras, buffaloes, baboons and several species of antelope. Dinner and overnight at Tented luxury camp or lodge.
Day 10. Tsavo West - Mombasa. After breakfast drive to Mombasa, arriving in time for lunch. Check in at the Mombasa Beach hotel or similar. This is a first class Beach hotel situated in the North Coast. Accommodation is on double room sharing, Half board basis.
Day 11. Mombasa - Nairobi. Full day own leisure in Mombasa. Accommodation at Mombasa Beach hotel or similar.

*Daily Activities included in the charge
Flood lit tennis court · Bicycles · an aerobics area · Table tennis · Beach soccer
Tug of war · Volleyball · Swahili lessons *Day and Night Time Entertainment
Live bands · Disco · African tribal dancers · Acrobatic shows · Quiz nights
Club shows
*Water sports included in the cost; Windsurfing beginner boards · Canoes · Paddle boats · introductory diving lesson in pool
FACILITIES AVAILABLE AT A CHARGE
Excursions
Guided & unguided snorkel safaris · Forest walks · Gede Ruins · Kipepeo Butterfly farm
Snake & Crocodile farms · Dolphin watching · Horse riding · African Village safari
Mida Creek by boat · Bird watching · Special package for bird watchers. Deep sea game fishing Reception · Local/international telephone & faxes · In-room safes · Taxis
Baby-sitting services (on request)
Water sports. Advanced windsurfing · PADI dive center
Day 12. Mombasa. Full day own leisure in Mombasa. Accommodation at Mombasa Beach hotel or similar.
Day 13: Mombasa. Breakfast, then transfer to the airport for flight back to Nairobi.
| | | |
| --- | --- | --- |
| No. Of Pax | Price in (US$) By Flight per person | Price in (US$) By Road per person |
| 02 |   |   |
| 04 |   |   |
| 06 |   |   |
NB// Accommodation in other lodges and Luxury tented camps is also available on request.