Mount Kenya Climbing: 8 Days In Sirimon - Out Chogoria (Rock Climbing Sirimon – Chogoria Route)
Mount Kenya Climbing: 8 Days In Sirimon - Out Chogoria (Rock Climbing Sirimon – Chogoria Route)
Day 01: Nairobi- Judmeire Camp (3300m)
After pick in Nairobi you drive to Nanyuki for lunch and preparation after to continue to Sirimon park gate(2650m). From the gate, you trek up through magnificent montane forest, bamboo and giant heather zone before reaching the altitude moorland and to your first hut(Judmeire camp) in time for lunch.
Afternoon at leisure giving may for dinner and overnight at the camp. 
Day 02: Judmeire Camp - Shipton Camp(4200m)
Early in the at around 7am, start through Ontulili River up this spectacular Mackinders valley via Liki north ridge with picnic lunch en route arriving in Shipton camp in 7 hours. This camp is surreal setting below the towering peak and glacier. Resident population is of rock hyrax and sunbirds. Dinner and overnight at the camp.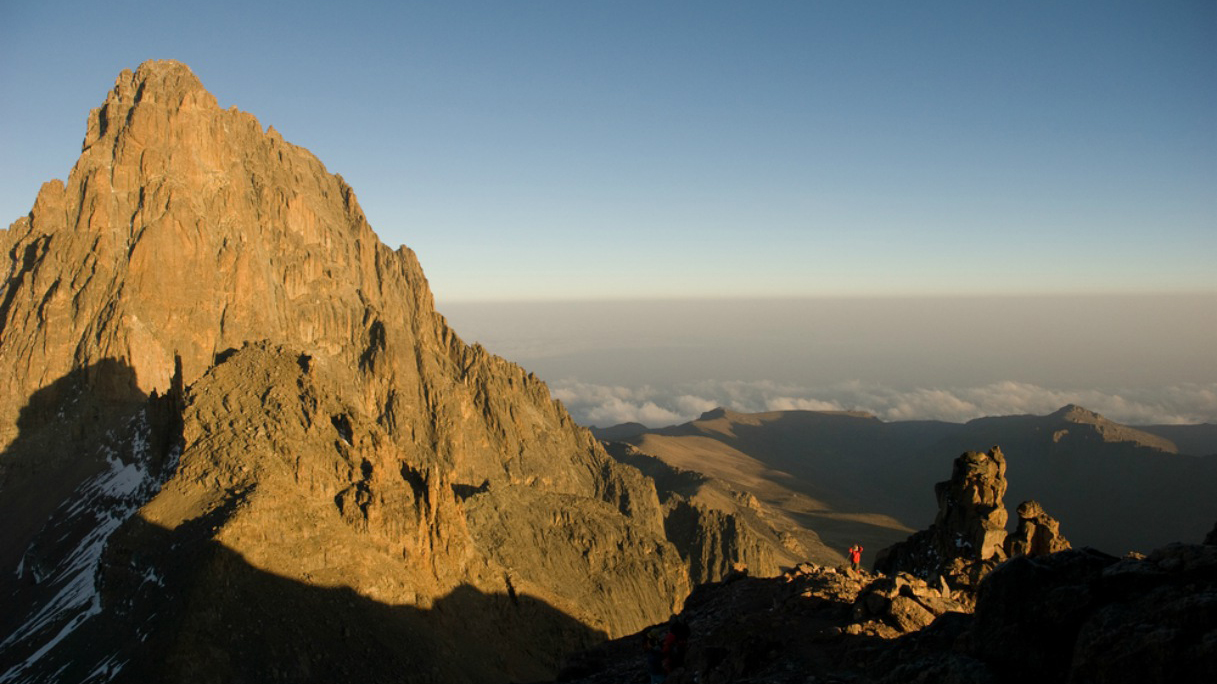 Day 03: Shipton - Mackinders Camp(4200m)
For a better acclimatization you kick off your peak stretching 2 days.
Today you go anticlockwise, first through Hausberg Col at 4600M, and the pass between Oblong and Hausberg Tarns.
Then climb up to Nanyuki to Two Tarns to descending to Mackinders Camp on the south western side of peak, at about4300m for dinner and overnight.
Day 04: Mackinders camp – Point Lenana(4985m) – Shipton Camp(4200m)
You rise early in the morning at around 7, and after breakfast you continue with your trek to top hut(Austrian hut4800m).
From this hut make final short ascent of point Lenana 4985m, Point Lenana is the common trekker's Mount Kenya Summit" . From this summit you the go straight down to the Northwest side back to Shipton Camp, passing Harris tarn.
Day 05: Full day at Shiptons' Camp
(Hiking-about day). On your 5th day you have option of taking a rest day or of climbing a short route on either Point Peter or Point Dutto. In either case you also prepare for climb of Batian the following morning.
Day 06. Shipton-Batian (5199m) - Shipton (Climbing day)
Ascent of Batian by the North face Standard route. Starting in the early morning dark, usually between 4 and 5 am, you may climb the first couple of pitches by the headlamp.
The route initially follow a wide coulair which you ascend for some 7 pitches , never harder than 5.7
You'll then descend via the same route hopefully hitting Shipton's camp before evening dusk for dinner and overnight.
NB// Those not doing technical climb to Batian will stay at the camp and do short treks or take a rest for the day.
Day 07. Shipton's Camp - Meru Mt Kenya Bandas Lodge.
After breakfast you trek out begins and you hike down by the Scenic Chogoria Route. Your trek out begins with a climb up to Simba Col ( where porters swore once the saw a lion, hence the name) then a quick descent to the halls Tarns. From here we follow the backbone of a ridge, overlooking the spectaculars Gorges Valley. Losing the elevation fast you leave the high moorland and enter into the forest belt that surrounds Mount Kenya. As you approach the cabins of Meru Bandas( your destination for the night) you are most likely to spot Cape Buffalo, Bush buck, and tracks of other wild animals.
The Bands are welcome luxury... with hot showers. a fine evening log fire, a bed, without mentioning a cold beer. 
Day 08. Bandas Lodge - Chogoria –Nairobi
After breakfast early in the morning, you hike for the first hour or so enjoying the bamboo forest. We often see Elephant tracks, and signs of many other wild wild animals.
Continue further down up to the 10km mark where you will be picked up by a 4 wheel drive vehicle and continue the drive to Chogoria town and switch to another vehicle for transfer to your Nairobi.
The package includes;
• Guarantee price/guarantee trek on confirmation
• Transfer to and from the base of the mountain
• Full board accommodation whilst on the trek. Meal plan as detailed: B=Breakfast, L=Lunch and D=Dinner
• Accommodations in camps/huts as per the itinerary
• All park entrance fees to include government taxes
• Service of an English speaking professional guide, porters and skilled cook
• Start and finish Nairobi
• Treated water on the trek.
• On completion, successful climb Certificate
The package Excludes;
• Laundry, sleeping bags, beverages/Drinks, accommodation before the trek and climbing gears
• International flights
• Visas to Kenya
• Items of personal nature
• Any other extras not detailed in the above itinerary