Mount Kenya Climb: 6 Days In Sirimon - Out Sirimon (July - September and December - March)
Mount Kenya Climb: 6 Days In Sirimon - Out Sirimon (July - September and December - March)
Technical Climbing,Rock Climbing,Ice climbing on the Main peaks of Mt Kenya (Batian 17,058 ft. Nelion 17,022 ft) Climbing the 'Diamond Couloir', South-East Face Route and North Face route.
Climbing from base of Normal Route direct to top of Nelion and then crossing the gate of mist to Batian and back to Nelion and descend the same way. to the summit is a challenging technical climb. For the experienced mountain climber, this peak is one of the world great challenges
A trip can be arranged within these two periods when the weather is most favourable on the mountain ie 15th July to the end of September and 15th December to mid March.
Day 01: Nairobi - Nanyuki. Transfer from Nairobi is at 09:00 hrs to Nanyuki. Dinner and overnight at Simbas lodge.
Day 02: Sirimon gate to Judmaier camp. After Breakfast drive to Sirimon Park gate and trek for 3 - 4 hours to Old Moses Camp (Judmaier) through a beautiful forest with East African Pencil Cedar trees, Poducarpus trees and the giant Hygenia trees. From Judmaier camp you can see the summits of Batian and Nelion peaks: 9kms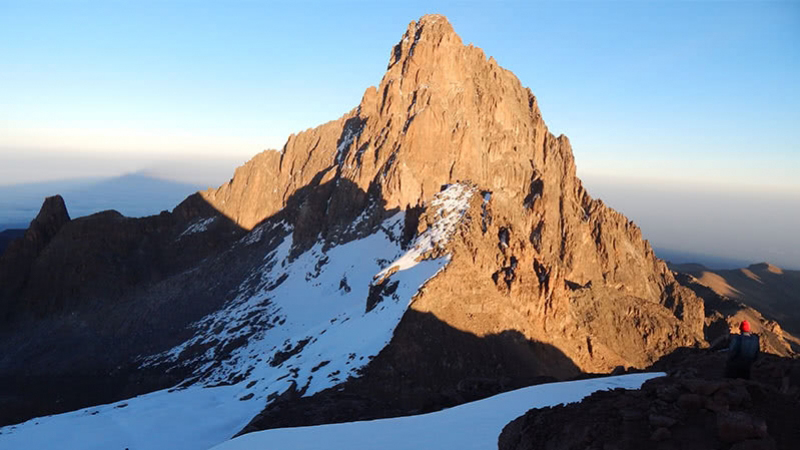 Day 03: Old Moses (Judmaier) camp to Shiptons camp. This is about a 6 - 8 hour hike crossing Liki and Mackinders valleys, there is a great view of Tereri and Sendeyo peaks. And also a great view of Nanyuki town and beautiful terrain. Shipton's camp has also an excellent setting with the north faces of Nelion peak and Batian peak. 13kms
Day 04: Shipton's Camp to the Base of North Face (Standard Route)
Depart Shipton's Camp to the base of North Face (Standard Route) to start your technical climb that takes you to the top of Batian Peak. This takes approximately 6 -8 hours to Batian Peak and descend to Shipton's Camp through the South East Ridge.
Day 5: Shipton's Camp to Old Moses Camp (Judmaier). After breakfast leave Shipton's Camp and descend to Old Moses(Judmaier) Camp with lunch enroute. Dinner and overnight at the camp.
Day 6: Old Moses Camp (Judmaier) to Park Gate. After breakfast leave the camp and descend to Sirimon Park Gate to catch your transport to the next destination.
Climb inclusive of:
* Return transfer Nairobi - Nanyuki - Nairobi
* 3 meals per day while trekking
* 6 days Mt. Kenya trek
* 5 nights accommodation while trekking
* 2 transfer from Nanyuki - park gate - return
* All government park fees at Mt Kenya national park
* English Speaking mountain guides and porters
Exclusive of:
* Gloves, Sun glasses, Sleeping bag, Hats , Rain suits,
* Warm Jacket, Heavy boots, Scarf's, Rain Trousers.
* Price is exclusive of first and Last Night accommodation in Nairobi.