Mount Kenya Climbing:8 days 7 nights In Chogoria - Out Sirimon (July - September)
Mount Kenya Climbing:8 days 7 nights In Chogoria - Out Sirimon (July - September)
Technical Climbing,Rock Climbing,Ice climbing on the Main peaks of Mt Kenya (Batian 17,058 ft. Nelion 17,022 ft) Climbing the 'Diamond Couloir', South-East Face Route and North Face route.
Africa Climbing,Mount Kenya climb,climbing Mt Kenya to Africa second Highest peak.Mt Kenya one of the East Africa Mountains that passes along the equator.Mt kenya climbing Technical climb on Rock Climbing and ice climbing on Mount Kenya
Climbing from base of Normal Route direct to top of Nelion and then crossing the gate of mist to Batian and back to Nelion and descend the same way. to the summit is a challenging technical climb. For the experienced mountain climber, this peak is one of the world great challenges.
July-September/October: North Face Standard route, Climbing on Mt. Kenya via the Chogoria approach.
Itinerary
Season is from Early July through to the end of October. (Poor weather possible at start and end of seasons).
Day 01: Pick up from your hotel at about 0800 hours. and transfer to Chogoria Town (3 - 4 hours) from Nairobi where we collect the porters and guides (as required). Overnight at Transit or Joywood Hotel.
Day 02: After breakfast and sorting of porter loads we transfer with a 4 x4 to Meru Mount Kenya Bandas for dinner and overnight.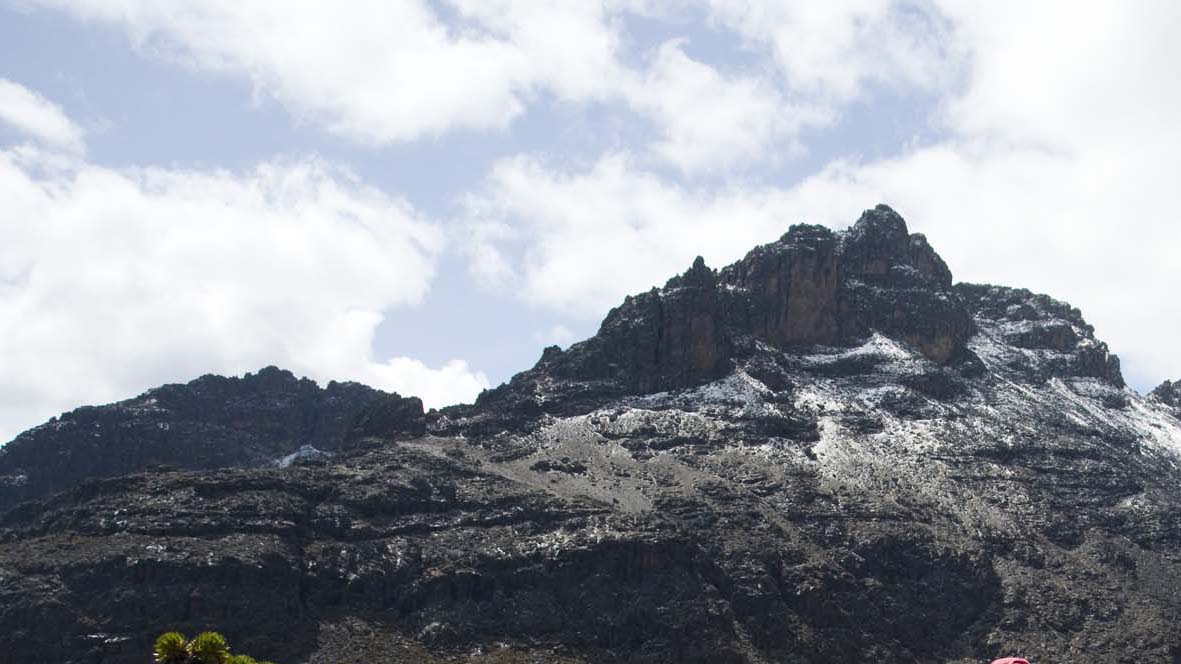 Day 03: After breakfast, set off up the mountain at a nice and easy pace . A slightly longer walk to Road Head Camp Site, upstream for about 9 km, Lunch dinner and overnight at the camp site.
Day 04: Depart Road Head Camp Site and climb up to Mintos Hut with lunch enroute. Dinner and overnight at Mintos Hut or Camp Site.
Day 05: After breakfast ascend up via Simba core Tarn to Kami Camp Site. Dinner and overnight at the camp
Day 06: Leave the campsite at about 0300 hours to the base of North Face Standard route to start your climb to Batian. Dinner and overnight at Kami Camp Site.
Day 07: After breakfast descend through Mackinders and Teleki Valleys with lunch enroute to Old Moses (Judmaier) for dinner and overnight.
Day 08: After breakfast descend to Sirimon park gate to catch your transport to your next destination.
Climb inclusive of:
* Return transfer Nairobi - Chogoria/Nanyuki - Nairobi
* 3 meals per day while trekking
* 8 days Mt. Kenya trekking
* 7 nights accommodation while trekking
* 2 transfer from Chogoria/Siromon - park gate - return
* All government park fees at Mt Kenya national park
* English Speaking mountain guides and porters
Exclusive of:
* Gloves, Sun glasses, Sleeping bag, Hats , Rain suits,
* Warm Jacket, Heavy boots, Scarf's, Rain Trousers.
* Price is exclusive of first and Last Night accommodation in Nairobi.
You can hire some of the equipment available at a reasonable cost.