Mount Kenya Hiking: 4 Days 3 Nights In Naro Moru - Out Sirimon Route
Mount Kenya Hiking: 4 Days 3 Nights In Naro Moru - Out Sirimon Route
This is most popular of all the routes that lead up to the Mountain. It is the steepest and the fastest way up Mt Kenya and ascends the mountain from the west. The route is not particularly scenic but has some of the best tourist accommodations. Most climbers begin at the park gate, although it is possible to drive a vehicle as far as the Met station (3050 metres). Among the challenges in this route include the vertical bog and the extremely steep trail on looses gravel while going up.
Day 01: Nairobi -Met station ( 3,050 m )3 -4 hrs, 10km, 400m ascent. 
After pick up in Nairobi drive to the Naro Moru park gate.  From the gate, we trek up through magnificent montane forest, bamboo and giant heather zone before reaching the high altitude moorland and our first cabins( Met Station) for dinner and overnight. This is a gentle trek that takes 3 – 4 hrs gaining an elevation of 600m.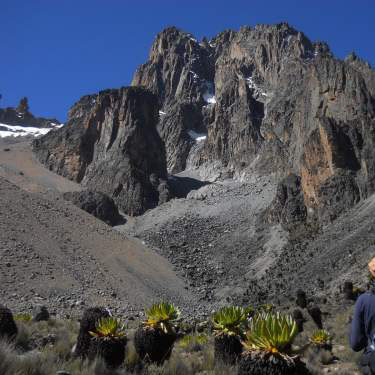 Day 02: Met Station – Mackinders  camp (4,300m).5-6 hrs, 11km, 1,200m ascent.
A short walk to the end of the forest line from where you hike across the marshy vertical bog of the lower moorlands. Picnic lunch at the Picnic
Rocks before continuing further to Mackinders camp, gaining 1300m in altitude in about 5 hours. Dinner and overnight – Mackinders camp (4300m). Dinner and overnight at the camp.
Day 03: Mackinders – Pt Lenana (4,985m) – Old Moses camp. 11 hrs, 685m ascent, 1,685 descent. 
Leave at 0300 hrs for predawn summit attempt, trekking for 3-4 hours across bare rock and scree slopes characteristic of the alpine region up to Pt. Lenana (4985m), the hikers summit, arriving in time to catch the African sunrise.  Later descend to Shiptons camp (Sirimon route) for breakfast.  After breakfast, begin a 5 hour descent via Mackinder`s valley to the Old Moses camp (3,300m). The descent is gentle and it offers ample time to enjoy fascinating scenery which includes the moorlands before reaching  the camp. Dinner and overnight at Old Moses camp.
Day 04: Old Moses (3,300m) – Nairobi. 2 hrs.
After early morning breakfast, descend for 3 hours through the rain forest to the Sirimon Park gate to catch a vehicle for the return journey to Nairobi arriving early evening.