Mount Kenya Climbing: 6 Days 5 Nights In Sirimon - Out Chogoria Route
Mount Kenya Climbing: 6 Days 5 Nights In Sirimon - Out Chogoria Route
Africa Climbing, Mount Kenya climb,climbing Mt Kenya to Africa second Highest peak.Mt Kenya one of the East Africa Mountains that passes along the equator.Mt kenya climbing route Sirimon out Chogoria route
Mt Kenya Climb 6 days / 5 nights
Grade:B- moderate. Up to 6.5 hours / 15 miles per day.
ApproximateTrekking Distance: 97 kms
Starts : Nairobi/Ends : Nairobi
Departure Day: Any Day
Accomodation :Standard Lodge at Mountain Base and Tent While trekking
Participants MINIMUM: 2 participants
Activities: Hiking and trekking, Tree naming, bird watch , wildlife encounter ,photography and beautiful scenery views
This route has the most gradual ascent to Point Lenana, Minimum 5 days trekking. This is one of the best routes
Day 01: Drive from Nairobi to Nanyuki through the central highlands and arrive at Nanyuki in the early afternoon for an acclimatization walk to the Equator line. Dinner and overnight at Simbas Lodge (budget hotel).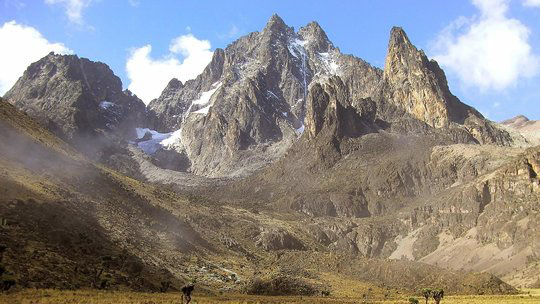 Day 02: After a late breakfast, drive to the Sirimon park gate (45 minutes) where the trekking starts. Walk for 9 km to Old Moses hut (3300 m). Dinner and overnight at the huts.
Day 03: Start for day at 07.00 am and walk through the Ontulili valley, Liki Valley and the Mackinders valley to Shipton's huts (4200 m), arriving in the late after noon. Dinner and overnight at the huts.
Day 04: Spend that day at Shipton hut and walk to the Hausberg col (4650 M) for acclimatization hike and then descend back to Shipton huts for dinner and overnight.
Day 05: Wake up at 02.30 am, and after a cup of tea, start the summit ascend arriving on top of point Lenana (4985 m) at around 06.15am for the sunrise. On a very clear day, one is able to see Mt. Kilimanjaro. After the photographic session, descend to Mintos for breakfast and then further down to Meru Mt.Kenya lodge bandas for dinner and overnight.
Day 06: After breakfast, descend for 15 km through the bamboo forest to where you get the 4WD vehicles waiting for you and then drive down to Chogoria town. From Chogoria town you board transport back to Nairobi where you arrive in the late afternoon.
 

No. Of Persons (Sleep in Huts)

 

Price Per Person (USD$)

 

02 - 04

 
 

05 - 08

 
 

09 - 12
Climb inclusive of:
* Return transfer Nairobi - Nanyuki - Chogoria - Nairobi
* 2 transfer from Nanyuki/Chogoria
* 3 meals per day while trekking
* 5 days Mt. Kenya trek
* 5 nights accommodation
* All government park fees at Mt Kenya National park
* English Speaking Mountain Guides and Porters
Exclusive of:
* Gloves, Sun glasses, Sleeping bag, Hats , Rain suits,
* Warm Jacket, Heavy boots, Scarf's, Rain Trousers.
* Price is exclusive of first and Last Night accommodation in Nairobi.
You can hire some of the equipments available at a reasonable cost.
Select below for other available itineraries for Mt. Kenya and Mt. Kilimanjaro Climbing Adventure