5 Days Masai Mara - Lake Nakuru - Hell's Gate National Park Safari
5 Days Masai Mara - Lake Nakuru - Hell's Gate National Park Safari
Safari Highlights: This Budget camping tour covers Masai Mara national reserve and great rift valley lakes Naivasha and Nakuru and the Hell's gate the only walking and cycling park. While in this tour you will be able to visit 3 Parks; Masai Mara known as the '7th wonder of the world' -wildebeest Migration, the pink Lake Nakuru home to millions of flamingoes and home of the white and Black Rhino, Hells gate and Lake Naivasha - in this park there are a lot of different activities like walking into the gorges and boat ride and cycling and viewing of the great Rift valley escarpment.
Day 01: Nairobi - Lake Nakuru. Pick up from your hotel at 8.00am and drive for 2 hours to Lake Nakuru national park for game drive. Lake Nakuru national park is a shallow alkaline lake in the Rift Valley, renowned for its spectacular flamingo population as one of the world's greatest ornithological spectacles. Although Lake Nakuru is primarily a bird sanctuary, there is a considerable number of animals to be seen such as many large game animals as zebras, buffaloes. Lunch is served on arrival followed by afternoon game viewing drives. Lake Nakuru national park was the first place in Kenya selected as a rhino reserve. This is one of the few places where we can see the endangered Rothschild's giraffes. Accommodation at Chester hotel or Lake Nakuru lodge. 
Day 02: Lake Nakuru - Masai Mara. After breakfast drive to the Maasai Mara Game Reserve, the northern part of the Serengeti - Mara ecosystem and one of Kenya's most favored game-viewing areas. Lunch at the camp or  lodge followed by afternoon game viewing drives.
The Mara is 700 sq miles of open grassland dotted with the distinctive flat-topped acacia trees. It is watered by the tree-lined Mara River and its tributary the Talek River. The Western border of the park is the spectacular Oloololo Escarpment. Dinner and overnight at the Manyatta camp or one of the luxurious lodges in the game reserve reserve.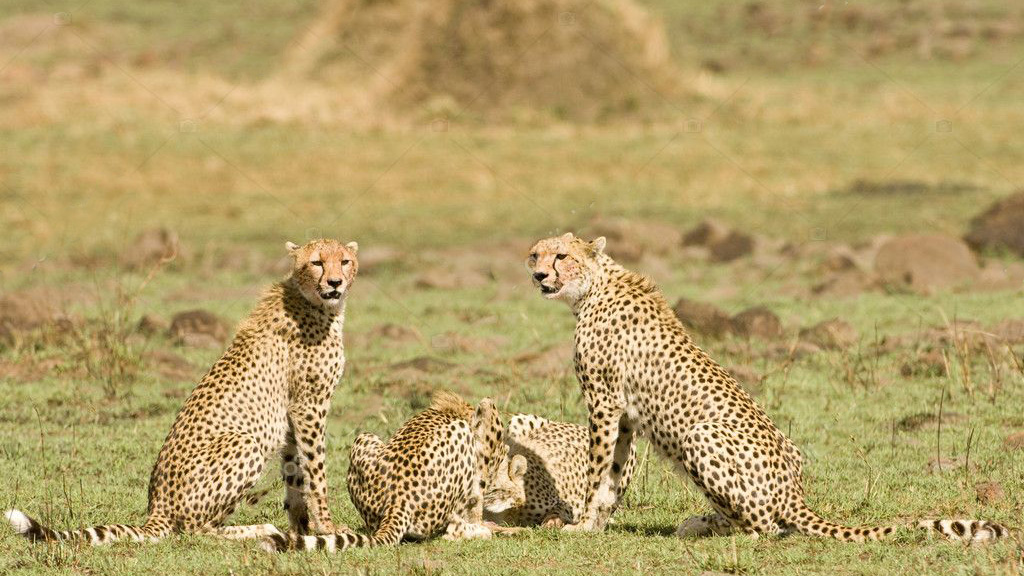 Day 03: Masai Mara. Full day game drive. Picnic lunch will be served.  The Mara is the land of African legend; Lion are abundant throughout the park, as are the elephants, giraffes, and a various gazelle species and zebra. Cheetah and leopards are also regularly seen and, less commonly, rhino. The annual wildebeest migration, one of nature's few remaining wildlife spectacles, occurs in the Mara from July to October when the big animals and their predators are to be present in abundance during.  Several species of Bee-Eater, the flying rainbow that heads the list of the Mara's hundreds of bird species. 
As well as wildlife, the Maasai Mara is also home to many members of the colorful Maasai tribes people who may be seen around the borders of the park - Morans (warriors) loping across the plains, young boys herding goats, or elders grouped under a tree discussing matters of the day. Dinner and overnight at the camp or Lodge.

Day 04: Masai Mara - Lake Naivasha. Morning game drive at Masai Mara. After breakfast drive lake Naivasha, with lunch enroute. All meals and overnight at Taphe guest resort  or one of luxury around the lake.
* Optional boat ride is available at Lake Naivasha to view hippos as well as sport fishing. 
Day 05: Lake Naivasha / Hells Gate - Nairobi. Early breakfast then drive a short distance on to Hell's gate national park for a guided walking tour. Located in Naivasha area, this is one of the lowland parks in the country which you can walk through. The looming cliffs and the Hell's Gate gorge itself are spectacular and home to a variety of birds and animals such as zebra, baboons, Thomson gazelle, antelope, cheeter, and leopards. Another main attraction is the Fischer's Tower 25-m high calcium of volcanic rock.
The Olkaria Geothermal power station, which uses one of the hottest sources of energy in the world, is also a spectacular site, with plumes of steam rising into the air. Drive to Nairobi later in the afternoon where you arrive at around 16:00pm. On arrival you will be dropped back at your city hotel or airport.
Safari Inclusive:
Complementary airport transfer on arrival in Nairobi
Transport while on safari - with pop up roof safari vehicle
All park entrance fees and government levies
Full board accommodation in camp or lodge
3 Meals per day while on safari- vegetarian & non vegetarian
English speaking professional driver guides
Bottled drinking water - 1 litre per person per day
Exclusive / Extras:
Expenses of personal a nature,
Sodas and alcoholic drinks
Laundry services
Gratuities/tips
Optional travel insurance
Entry visa,
Health requirements (you are entering a Malaria area).
Also excluded is accommodation in Nairobi - can be arranged on request.